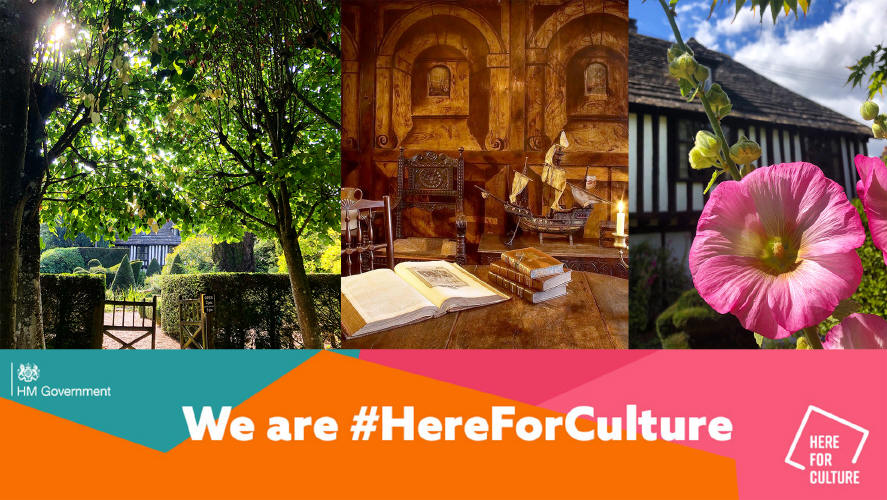 At St Mary's we were thrilled to hear that we have received funding, thanks to the government's #CultureRecoveryFund, @HistoricEngland and @HeritageFundUK, so that we can continue to be here for you and #HereForCulture.
Our award of up to £47,400 will enable us to carry out essential maintenance to this unique Grade 1 listed building. It will also help us to obtain professional advice, cover essential overheads and implement longer term plans to get back on track and plan for a safe re-opening of this historic venue.
This vital funding is from the Culture Recovery Fund for Heritageand the Heritage Stimulus Fund – funded by Government and administered at arms length by Historic England and the National Lottery Heritage Fund. Both funds are part of the Government's £1.57 billion Culture Recovery Fund which is designed to secure the future of Britain's museums, galleries, theatres, independent cinemas, heritage sites and music venues with emergency grants and loans.
433 organisations will receive a share of £67 million from the Culture Recovery Fund for Heritage to help with costs for operating, reopening and recovery. This includes famous heritage sites across the country, from Wentworth Woodhouse in Yorkshire to Blackpool's Winter Gardens, Blyth Tall Ship to the Severn Valley Railway, the International Bomber Command Centre in Lincolnshire to the Piecehall in Halifax. The funds will save sites that are a source of pride for communities across the country.
12 organisations, including English Heritage, Landmark Trust, Historic Royal Palaces and the Canal and River Trust, will receive £34 million from the Heritage Stimulus Fund to restart construction and maintenance on cherished heritage sites to preserve visitor attractions and protect livelihoods for some of the most vulnerable heritage specialists and contractors in the sector.
The Architectural Heritage Fund (AHF) has also been awarded a grant from the Culture Recovery Fund through Historic England. The AHF will use the funding to support charities and social enterprises occupying historic buildings to develop new business plans and strategies for organisations affected by the pandemic.
Peter Thorogood, Owner of St. Mary's, said:
"The Cultural Recovery Fund for Heritage Grant is an amazing piece of news because we were being tested on survival and we are certainly delighted to know that the grant will come to help us through a very difficult period."
Culture Secretary Oliver Dowden said:
"There's no truer way to experience the past than to walk in the footsteps of those who have lived it – that's why preserving our built heritage is so important.
"At Historic Royal Palaces, we care for six nationally significant buildings, opening them to the public and preserving them for future generations. Sadly, the pandemic meant that we had to stop some of our critical conservation work. The grant we have received from the Culture Recovery Fund will enable to this work to resume – so we can give some of Britain's most historic buildings the care and attention they deserve, while supporting the specialist craftspeople who are vital for the future of our national heritage.  We are enormously grateful to the Government for this support."
Here are some quotes from some of the many supporters of St Mary's:
"St. Mary's is a wonderful place and Peter and Roger have done the most fantastic work there. The grant couldn't be more deserved" (James Bolam, TV actor)
"Christmas would not be Christmas unless Jim and I could go to St. Mary's and do the Christmas Cracker." (Susan Jameson, TV actress)
"It is wonderful to hear that St. Mary's has been awarded a grant from the government's Culture Recovery Fund.  It is truly a special place, steeped in historic and cultural history, enhanced by gardens of sheer delight, maintained by volunteers.  Our county and indeed country is all the richer for its existence, so support such as this will help ensure that it survives for generations to come." (Juliet Smith, JP DL, former High Sheriff of East Sussex)
Here are a few words from Peter Thorogood, owner of St Mary's, about…
Videos courtesy Neil Pringle, Oct 2020