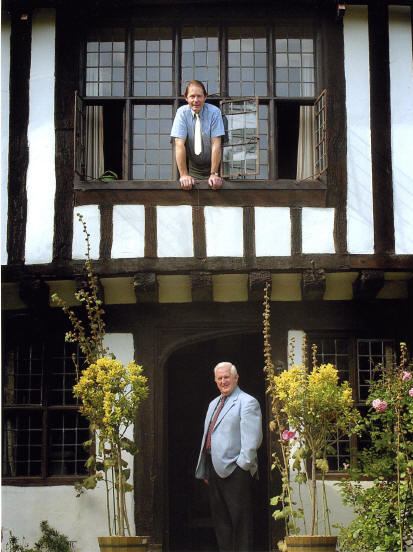 Roger Linton, Curator, has many family links with Sussex and with St. Mary's in particular, going back very many years. He studied at Leicester College of Art, then at the Royal College of Art in London, where he trained as a designer, specialising in ceramics. Roger went on to teach art and design at Thanet Technical College and later at Brighton College of Technology, at the same time developing his talents as painter and sculptor following his keen interest in antique china restoration.
In 1981, Roger Linton designed and made a complete panelled library for Peter Thorogood's home in Kensington to house the unique Thomas Hood collection, now at St. Mary's. His abiding interest in architecture and art history was put to good use in his restoration of the Linton family home – a 15th century timber-framed hall-house in Suffolk – providing him with invaluable expertise in the considered conservation of an English vernacular building such as St. Mary's.
Peter Thorogood, is an author and composer whose early writings grew out of his love for the East Anglian countryside of his childhood. He studied piano and composition at the Guildhall School of Music, then read Modern Languages at Trinity College, Dublin, at the same time continuing his musical studies at the Royal Irish Academy of Music.
Following his graduation from Dublin, Peter Thorogood was appointed to the British School of Milan, eventually becoming its Vice-Principal. He also managed to make time for continuing his studies in piano and composition. He travelled extensively through Europe and the Middle East, and taught in Germany, Israel, Poland and Greece as visiting lecturer with the British Council.
Peter Thorogood has been Radio Talks Critic for the BBC magazine, The Listener, published three collections of his own poetry, and delivered a number of papers on his researches into the life and work of Thomas Hood. He has given many recitals of music and poetry, including his own compositions, in and around London, but since 1984 he has devoted his energy to the restoration of St. Mary's, where the Music Room has proved to be the perfect setting for his successful series of concerts and recitals